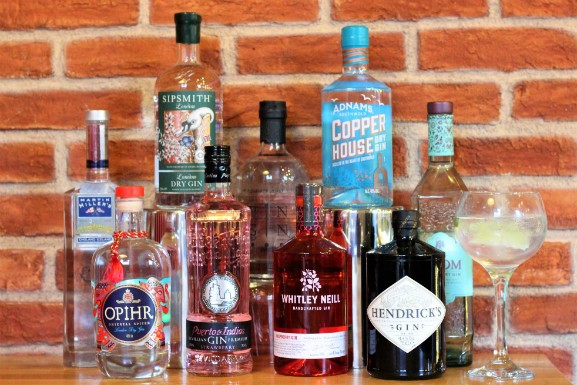 Our Gin Bar celebrates established brands and up-and-coming distilleries with 10 carefully selected gins. Whether you enjoy a traditional G&T or prefer trying a new variety – we've made sure our menu features something for everyone. Here's some background to the gins we have on offer in all our restaurants.
Adnams Copper House
This gin was voted the 'World's Best Gin' at the International Wine & Spirits Competition 2013 – and the accolade certainly raised its profile. It's created with six carefully chosen botanicals and described as 'classically charged with juniper, rich with floral and citrus notes'.  
Opihr
Pronounced 'o-peer', this gin is inspired by the ancient spice route and is crafted using hand-picked botanicals including Indonesian cubeb berries, Indian black pepper and Moroccan coriander. It has won seven international drinks awards since 2013, including the San Francisco World Spirits Competition.
Hendricks
Launched in 1999, Hendricks gin has managed to establish itself as a popular modern drink and is often placed next to more traditional brands in bars. Its two main infusions are rose petal and cucumber – and Hendricks G&T switches out lemon slices in favour of freshly sliced cucumber.
Tanqueray 10
This gin is described as a 'classic luxury gin for connoisseurs' and considered an excellent base for a gin and tonic. It has a very fresh taste, with a fusion of orange, grapefruit, lime juniper and elderflower. Award-winning, this gin is the only one in the prestigious, and globally acclaimed, San Francisco Spirits Hall of Fame.
Bloom London Gin
A delicate and floral gin which is a fusion of citrus, honeysuckle, chamomile and pomelo botanicals. The honeysuckle is said to provide a natural sweetness; the camomile is calming; and the pomelo brings a natural citrus note to the flavour. It has won 29 international awards since 2008.
Martin Miller's
This gin is double distilled and uses pure Icelandic water which helps create a smooth, rounded finish. Currently advertised as the world's most awarded gin, flavoursome botanicals are used in the drink's recipe. These are juniper, coriander, angelica root, orange peel, lemon peel, lime oil, orris root, cassia bark, ground nutmeg, liquorice and cucumber distillate.
Pin Gin
Pin Gin is produced by Bottomley Distillers, a Lincolnshire-based gin producer. They've managed to formulate a unique and enticing gin flavoured with warming black pepper and citrus and floral notes. Since we came across it at a local gin festival earlier this year, we simply had to include it to our Gin Bar.
Sipsmith London Dry Gin
When Sipsmith opened in 2009, it was the first copper-pot distillery to open within London's city boundary in almost 200 years. Experts say the Sipsmith London Dry Gin is smooth enough for a Martini and its balance perfect for a G&T. With over 30 international awards under its belt, this gin is infused with floral meadow notes, zesty freshness, lemon tart and orange marmalade.
Whitley Neill Raspberry Gin
Described as having 'an invigorating tartness from Scottish raspberries', this gin is complemented by 'punchy notes' of liquorice and coriander. One of our more fruity options, this gin's delicate sweetness makes it also deliciously vibrant. Whitley Neill has been distilling gin for eight generations since 1762.
Puerto Indias Strawberry Gin
This gin was apparently made by accident after trying to create a strawberry liqueur. A vibrant and fruity Spanish gin, it is flavoured with fresh Spanish Seville strawberries. It's light and sweet – and makes a fine, refreshing summer drink.
Image Credit: Bottomley Distillers
ENQUIRY FORM